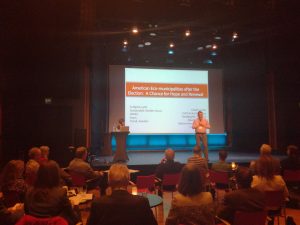 On the 15th and 16th of March, the Swedish Association for Eco-municipalities (SEKOM) organized its yearly conference in Luleå, which several representatives from the Swedish Eco-municipalities attended to. This was a great occasion to present all the advances made by the municipalities, as well as expose their vision for the future of the movement.
Cindi Contie, from the Institute for Eco-municipality, Education and Assistance (IEMEA) was the guest of honour for this conference. She gave a presentation on the situation of the Eco-municipalities in the United States, called "American Eco-municipalities after the election : A Chance for Hope and Renewal".
The whole presentation can be seen here.