Here, you can find a selection of inspiring books that highlight the challenges facing humanity and the planet. These are sources that allow a real awareness of current issues, and also provide answers to move towards a sustainable world, before it is too late….
*T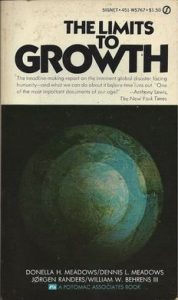 itle: The Limits to Growth – A Report for the Club of Rome's Project on the Predicament of Mankind
*Authors: Donella H. Meadows, Dennis L. Meadows, Jorgen Randers William W. Behrens III
*Publisher: Universe Books
*Year: 1972
*Purpose: "The message of this book still holds today: The earth's interlocking resources – the global system of nature in which we all live – probably cannot support present rates of economic and population growth much beyond the year 2100, if that long, even with advanced technology. In the summer of 1970, an international team of researchers at the Massachusetts Institute of Technology began a study of the implications of continued worldwide growth. They examined the five basic factors that determine and, in their interactions, ultimately limit growth on this planet-population increase, agricultural production, nonrenewable resource depletion, industrial output, and pollution. The MIT team fed data on these five factors into a global computer model and then tested the behavior of the model under several sets of assumptions to determine alternative patterns for mankind's future. The Limits to Growth is the nontechnical report of their findings. The book contains a message of hope, as well: Man can create a society in which he can live indefinitely on earth if he imposes limits on himself and his production of material goods to achieve a state of global equilibrium with population and production in carefully selected balance".
*Titl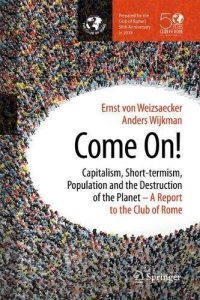 e: Come on! Capitalism, Short-termism, Population and the Destruction of the Planet – A Report to the Club of Rome
*Authors: Ernst Von Weizsaecker & Anders Wijkman
*Publisher: Springer Editions
*Year: 2017
*Purpose: "Current worldwide trends are not sustainable. The Club of Rome's warnings published in the book Limits to Growth are still valid. Remedies that are acceptable for the great majority tend to make things worse. We seem to be in a philosophical crisis. Pope Francis says it clearly: "our common home is in deadly danger". Analyzing the philosophical crisis, the book comes to the conclusion that the world may need a "new enlightenment"; one that is not based solely on doctrine, but instead addresses a balance between humans and nature, as well as a balance between markets and the state, and the short versus long term. To do this we need to leave behind working in "silos" in favor of a more systemic approach that will require us to rethink the organization of science and education. However, we have to act now; the world cannot wait until 7.6 billion people have struggled to reach a new enlightenment. This book is full of optimistic case studies and policy proposals that will lead us back to a trajectory of sustainability. But it is also necessary to address the taboo topic of population increase. Countries with a stable population fare immensely better than those with continued increase".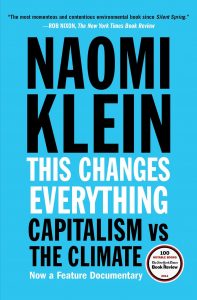 *Title: This Changes Everything: Capitalism vs. the Climate
*Author: Naomi Klein
*Publisher: Simon & Schuster Editions
*Year: 2014
*Purpose: "The most important book yet from the author of the international bestseller The Shock Doctrine, a brilliant explanation of why the climate crisis challenges us to abandon the core "free market" ideology of our time, restructure the global economy, and remake our political systems. In short, either we embrace radical change ourselves or radical changes will be visited upon our physical world. The status quo is no longer an option".
*Titl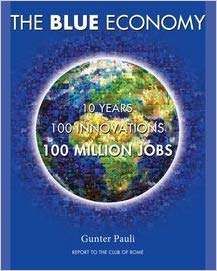 e: The Blue Economy: 10 years, 100 innovations, 100 million jobs
*Author: Gunter Pauli
*Publisher: Paradigm Publications
*Year: 2010
*Purpose: "A book that expresses that a Blue Economy business model will shift society from scarcity to abundance "with what is locally available", by tackling issues that cause environmental and related problems in new ways. The book highlights potential benefits in connecting and combining seemingly disparate environmental problems with open-source scientific solutions based upon physical processes common in the natural world, to create solutions that are both environmentally beneficial and which have financial and wider social benefits. The book suggests that we can alter the way in which we run our industrial processes and tackle resultant environmental problems, refocusing from the use of rare and high-energy cost resources to instead seek solutions based upon simpler and cleaner technologies. The book proposes to focus on the generation of more value, instead of blindly cutting costs. The book aims to inspire entrepreneurs to adopt its insights, by demonstrating ways in which this can create economic benefits via job creation, reduced energy use, and more revenue streams from each step of the process, at the same time benefiting the communities involved".