Here, you can find a selection of inspiring movies that highlight the challenges facing humanity and the planet. These are sources that allow a real awareness of current issues, and also provide answers to move towards a sustainable world, before it is too late….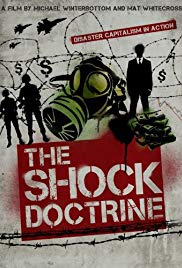 *Title: The Shock Doctrine
* Director: Michael Winterbottom, Mat Whitecross
* According to the original work of: Naomi Klein
* Year: 2009
*Synopsis: "In 2007, Naomi Klein published The Shock Strategy. A collective trauma, a war, a coup, a natural disaster, a terrorist attack plunge each individual into a state of shock. After the shock, we become children again, now more inclined to follow the leaders who claim to protect us. If there is one person who understood this phenomenon very early on, it was Milton Friedman, Nobel Prize winner in economics in 1976. Friedman, supporting ultra-liberalism, advised politicians to impose painful economic reforms immediately after a crisis before people had time to recover. He called this method of treatment a shock treatment. Naomi Klein calls it a "shock strategy". Using numerous archival images, Michael Winterbottom and Mat Whitecross demonstrate the power of Naomi Klein's text and the need to resist".
*Trailer: https://www.youtube.com/watch?v=RCQj-z86qUo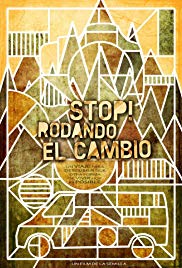 *Title: Stop! Rodando el cambio
*Directors: Alba González de Molina Soler, Blanca Ordóñez de Tena
*Producer: La Semilla
*Year: 2012
*Synopsis: "Stop! Rolling the change is a documentary recorded by a team of women and collectively funded." For a month, we traveled through different alternatives between Spain and France in search of other ways of life more respectful of the environment and the people who inhabit it. The theory of degrowth on which we base alerts us to the impossibility of continuing to produce, as it has done up to now, a planet whose resources are finite. These levels of consumption have led us to the disappearance of forests, to having polluted rivers and seas, intoxicated food … all fueled by financial speculation and a carefree political class both socially and environmentally … How much longer we can wait for a paradigm shift worldwide? Is it possible to live happily reducing drastically our needs?"
*Trailer: https://www.youtube.com/watch?v=_emFMucrVHw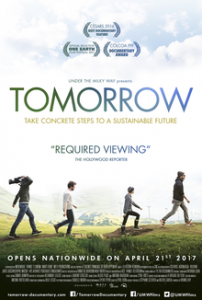 *Title: Tomorrow
*Directors: Cyril Dion & Mélanie Laurent
*Producer: Under the Milky Way
*Year: 2015
*Synopsis: "And if showing solutions, telling a story that is good, was the best way to solve the ecological, economic and social crises that our countries are going through? Following the publication of a study announcing the possible disappearance of a part of humanity by 2100, Cyril Dion and Mélanie Laurent left with a team of four people to investigate in ten countries to understand what could provoke this disaster and especially how to avoid it. During their trip, they met the pioneers who are reinventing agriculture, energy, the economy, democracy and education. By putting together these positive and concrete initiatives that are already working, they are starting to see what could be the world of tomorrow …"
*Trailer: https://www.tomorrow-documentary.com/#trailer-section
*Directors: Bill Benenson & Gene Rosow
*Producer: Common Ground Media, Inc.
*Year: 2009
*Synopsis: "DIRT! The Movie –narrated by Jamie Lee Curtis– brings to life the environmental, economic, social and political impact that the soil has. It shares the stories of experts from all over the world who study and are able to harness the beauty and power of a respectful and mutually beneficial relationship with soil. But more than the film and the lessons that it teaches, DIRT! The Movie is a call to action. "When humans arrived 2 million years ago, everything changed for dirt. And from that moment on, the fate of dirt and humans has been intimately linked." How can you affect that relationship for the better?"
*Trailer: http://www.dirtthemovie.org/the-film/
*Director: Yann-Arthus Bertrand,
*Producer: Bettencourt Schueller Foundation, GoodPlanet Foundation
*Year: 2015
*Synopsis: "HUMAN is a diptych of stories and images from our world to create an immersion in the depths of the human being. Through testimonies filled with love, happiness, but also hatred and violence, HUMAN confronts us with the Other and sends us back to our own lives. From the smallest story of everyday life to the most incredible life stories, these poignant and seldom sincere encounters highlight who we are, our darkest part but also what we have that is most beautiful and universal. The Earth, our Earth, is sublimated through unpublished aerial images accompanied by music like an opera, which bear witness to the beauty of the world and offer us moments of breathing and introspection. HUMAN is a committed work that allows us to embrace the human condition and reflect on the very meaning of our existence".
*Trailer: https://www.youtube.com/watch?v=0-Retnj3TsA
*Tit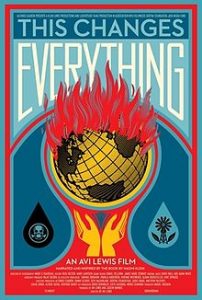 le: This Changes everything
*Director: Avi Lewis
*Producer: Klein Lewis Productions
*Year: 2015
*Synopsis: "And if fighting the climate crisis is the best chance, we will ever have to build a better world? Filmed on 211 shooting days in 9 countries and 5 continents over 4 years, This Changes Everything is an epic attempt to re-imagine the immense challenge of global warming. Seven portraits of front-line communities, from the Powder River basin in Montana to the oil sands of Alberta, from the south coast of India to Beijing and beyond: the narrative of Naomi Klein intertwines these stories of struggle, linking the presence of carbon in the air and the economic system that spawned it. Naomi Klein constructs her most controversial and exciting idea: that we can grasp the existential crisis of climate change to turn our failing economic system into a radically better new system."
*Trailer: https://www.youtube.com/watch?v=IpuSt_ST4_U
*Titl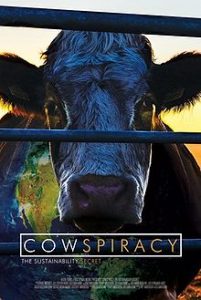 e: Cowspiracy: The Sustainability Secret
*Director: Kip Andersen, Keegan Kuhn
*Producer: Kip Andersen
*Year: 2014
*Synopsis: "Cowspiracy: The Sustainability Secret is a documentary film which explores the impact of animal agriculture on the environment, and investigates the policies of environmental organizations on this issue. Environmental organizations investigated in the film include Greenpeace, Sierra Club, Surfrider Foundation, Rainforest Action Network. The film looks at various environmental concerns, including global warming, water use, deforestation, and ocean dead zones, and suggests that animal agriculture is the primary source of environmental destruction".
*Trailer: https://www.cowspiracy.com/