Sustainable Sweden Tour May – June 2014 
 This time the tour was divided in two parts:
May 31st (Copenhagen) to June 7th (Stockholm): Southern Sweden Tour
June 8th (Stockholm) to June 15th (going up to the first Eco-Municipality Övertorneå and ending in Stockholm): Northern Sweden Tour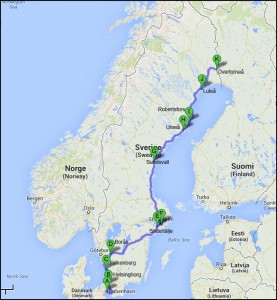 We met committed professionals from the host communities (Eco-municipalities of Sweden) with unique competence and experience. This year, the Tour was focused on Renewable Energy, Green Business, but also on Food Industry and Local Culture.
Sustainable Sweden Tour – August, September 2013
We welcomed a group of 8 participants during one week (31th August – 8th September).
Seven were Americans from Brainbridge Graduate Institute in Seattle, and the last (but not least) was swedish. Together we traveled through the South of Sweden in the area of Stockholm, and then we took  the ferry to the island of Gotland. Participants discovered Eco-villages, Eco-municipalities (Södertälje, Gotland), Sustainable business, Innovating Recycling process, Permaculture…etc
Sustainable Sweden Tour – May 2012
As part of a Latin-American/Swedish cooperation project, a group of representatives from Chile, Argentina and Colombia will be doing a study tour around Sweden, as a first step for a mutual learning regarding eco-municipalities and for international exchanges of good sustainable practices.
Focus was put on sustainable forestry, lagoons ecological restoration, sustainable waste management and unconventional green energy sources (biogas, windpower).
"Citizens and Energy"  Study tour – February 2012
Sustainable Sweden Association and its partner in Tokyo, the eco-tourism speciality
tour organizer Reborn Inc. is providing an opportunity for people in Japan to visit
Sweden for inspiration and learning. The main focus is: how to move on in a contructive
way after the nucear disaster in Fukushima March 11, 2011.